Introducing the AP-4 ™ from Altapure.
Independent Studies Show:
Rapid, Complete Kill
Altapure's process delivers a complete kill of viruses, bacteria, and bacterial spores, in less than 10 minutes of exposure. Treated surfaces have been clinically proven to show "no growth" for bacterial spores, vegetative bacteria, and viruses. An independent laboratory has established that the Altapure process has a D-Value of 2.3 – 2.6 minutes (meaning a 90% kill within only 2.3 to 2.6 minutes of treatment) for Geobacillus stearothermophilus spores. Killing G. stearothermophilus indicates a similar kill for Clostridium difficile. Altapure's treatment process is rapid, providing room turnovers in under fifty (50) minutes (Exit to Entry) for a common patient room.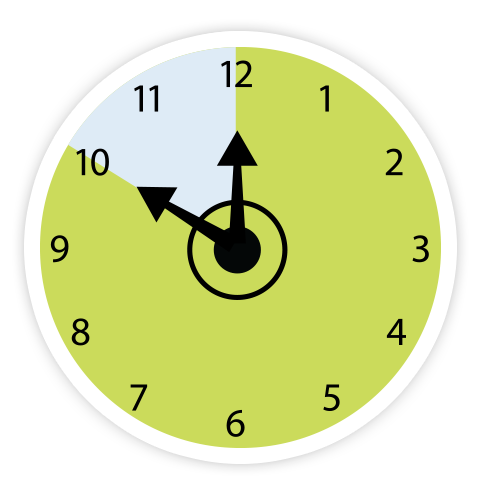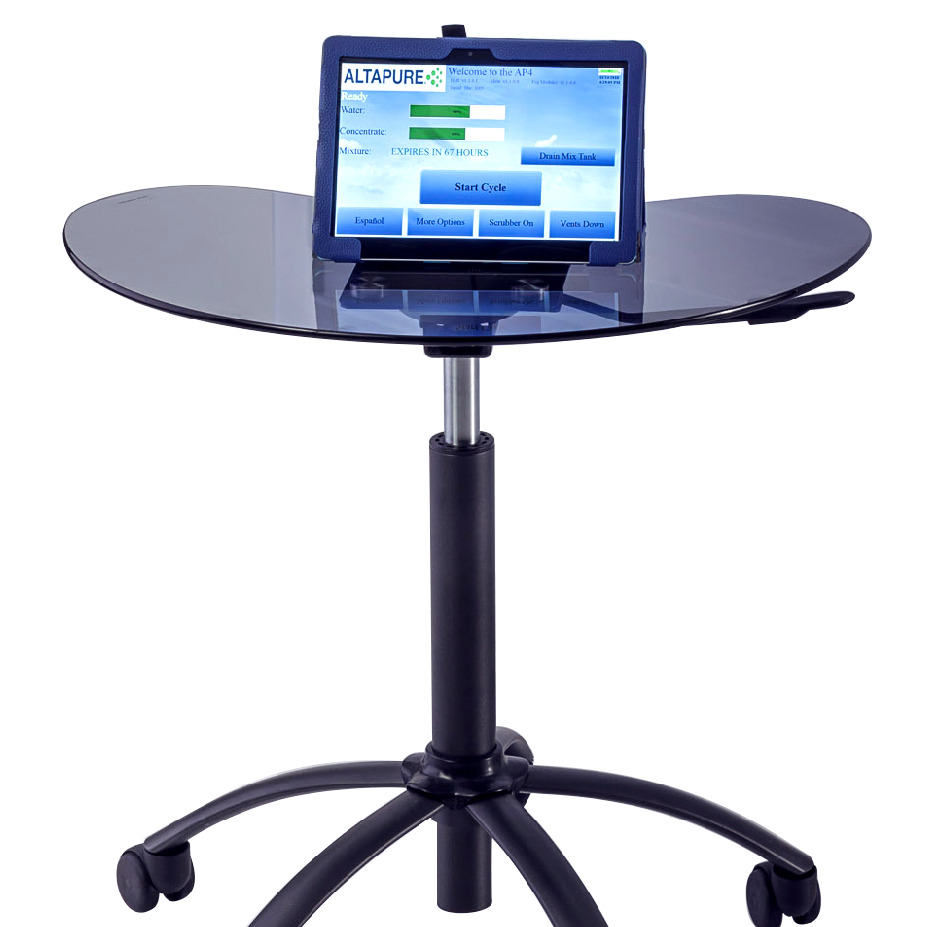 Remote Operation
The AP-4 ™ is remotely operated using a small and lightweight, hand held "Control Tablet" that is touch screen activated. It communicates via wireless means with one or more AP-4 ™ machines and ancillary devices. The wireless Control Tablet is approved for use in all medical, industrial, and scientific environments.
The Control Tablet displays system status including all fluid levels, and has thermal paper printer capability for cycle validation.  The Control Tablet can also wirelessly connect to a PC, for data and report downloads.  If lost or damaged, the Control Tablet is easy and economical to replace.
Remote operation allows the AP-4 ™ to be operated and monitored from outside of the treated space, eliminating the interaction between your staff and the high-level disinfection process.
The preferred sub-micron aerosolized agent is an EPA-approved PAA agent which is a powerful broad spectrum disinfectant consisting of only 1.06% of active ingredients when mixed (0.88% hydrogen peroxide, and 0.18% acetic acid), and 98.58% ultra-pure water (Total Inert Ingredients: 98.94% – see product label). The agent should be manufactured from only pharmaceutical quality ingredients.
When used according to directions, the results will be 6 Log + kill of spores, vegetative bacteria, and viruses, on surfaces within the enclosed space.
Experiments demonstrating the efficacy of Altapure's aerosol against the most resistant biologic organisms were confirmed by researchers Dr. Curtis Donskey, MD (Case Western Reserve University, School Of Medicine), Dr. Dennis Maki, MD (University of Wisconsin, School of Medicine), Dr. William Rutala, Ph.D. (University of NC, Epidemiology), Raven Biological Laboratories of Omaha, NE, (now Mesa Laboratories, Inc. - an independent, internationally recognized reference laboratory), and numerous hospitals in the United States. Virus efficacy data was also collected and reported by Biological Consulting Services, Inc.
For more information about Altapure's efficacy, please visit our "Test Results & Efficacy" section by clicking here.
The AP-4 ™ may be utilized in many different applications including, but not limited to, the high level disinfection of surfaces and equipment in, the pharmaceutical industry, laboratories, research centers, medical device industry, food processing industry, food storage areas, civil defense, military and government, prisons, law enforcement, hospitals, outpatient clinics, and veterinary clinics. The AP-4 ™ can also be used to assist with fungus and mold removal and treatment, and surface disinfection, especially after floods, hurricanes, or other water damage.
Altapure has worked jointly with Harris Corporation, a top-tier global aerospace, defense, and information solutions company, to develop the patented ultrasonic subsystem of the AP-4 ™. This new technology represents cutting edge "next generation" technology for aerosol generation and delivery.  This piezoelectric ceramic-based ultrasonic technology has a naval & defense lineage that provides high power, durability, dependable quality, and cutting edge performance.
For more information about Altapure and its process, please visit our Technology section.
Rapid Treatment: Less than 50 minute cycle (entry to exit) for common patient room.

Only one housing contains: Aerosol generator & Vapor removal system.

High capacity & dense aerosol output (40% increase).

"Extremely thin film" deposition with sub-micron droplet performance.

Lightweight and easy to maneuver.

Wireless control and monitoring via tablet.

Easy to operate - one touch fully-automatic control.

Multi-Language control and support (English / Espanol).

Wireless data reporting to PC (download cycle reports).

Sub-micron aerosol droplets, the smallest & most efficacious in the industry.

Automatic electronic programmable concentrate / water internal mixing system.
Disinfection of Coronavirus, such as SARS-CoV-2 as shown by Dr. C. Donskey and Dr. S. Raju

Closed-loop aerosol control, with no guessing for deploy / dwell / reprocessing times.

Simple setup and operation means quick room treatment turnaround times.

Programmable for special agents and disinfection applications.

Powered from a single common electrical outlet.

Treats up to 5,000 cubic feet with one machine (adjacent rooms included / variable time).

Avg. Particle size = 0.69 µm.

Size – L = 52"(132 cm), W = 25"(63.5 cm),  H = 44"(112 cm).

Ruggedized construction using all food grade polymer and food compliant materials such as 316-L stainless steel.

Automated Vent Cover devices easily and quietly stow for travel.

100 – 120VAC/20A 50/60Hz, all global standard input options are available.

Designed to comply with common electrical standards.

One year parts and labor warranty.
* Includes:  Two (2) Automatic Vent Covers, one (1) Manual Vent Cover, and one (1) Control Tablet.
** The AP-4 ™ shall be used as an adjunct to regular cleaning / disinfection procedures for hard room surfaces. All federal labeling, directions for use, and manufacturer's recommended protocol, must be followed to achieve best results.
To learn more about Why Altapure is the best choice
For a free demonstration,
please call (574) 485-2145 [ext. 2]