AltaCare Cold Sterilant
Size: (1) Liter Bottle / (4) bottles per case
Description:
Altacare ® Cold Sterilant, is a reagent grade peracetic acid solution (also known as peroxyacetic acid or PAA).  PAA is an organic compound in a colorless aqueous solution.   Altacare ® is EPA approved.
Altacare ® is a powerful broad spectrum disinfectant against bacteria, virus and spores.  It is highly effective against a broad range of microorganisms, due to its high oxidizing potential.  Altacare ® stops organism growth by oxidizing microbial enzyme systems and cell proteins.
Unlike disinfectants like aldehyde, chlorine, and heavy metal / silver impregnated disinfectants, Altacare ® has minimal impact on the environment.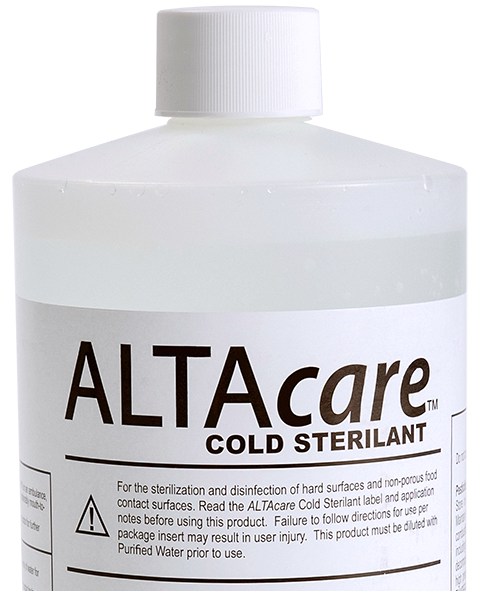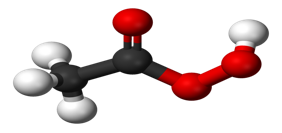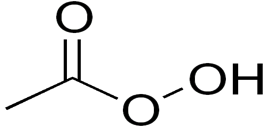 Altacare ® Cold Sterilant is also fully biodegradable and environmentally friendly (green), and it decomposes and dries into safe and environmentally friendly components of: water vapor, oxygen, and acetic acid (vinegar) vapor. The result is residue-free treated surfaces.
Only pharmaceutical quality raw ingredients are used to manufacture Altacare ®.  This choice of quality ingredients eliminates the introduction of undesirable materials into treated areas like clean rooms, pharmaceutical processing facilities, laboratories, and food processing areas.
For over 20 years, Altacare ® PAA chemistry has been utilized in hospitals and clinics.  In addition, it is registered for use in locations such as but not limited to: industrial laboratories, hospitals, medical product manufacturers, pharmaceutical manufacturers, bio-tech companies, and food & beverage processing plants.
The Altacare ® concentrate is mixed inside the HJ-30i ™ machine, with reverse osmosis deionized (RODI) water, prior to and during each operation cycle.  More specifically, the Altacare ® concentrate is diluted 25:1, or 25 parts water to 1 part concentrate.  This mixed liquid is then converted into an aerosol that consists of the following percentage of ingredients:
Peroxyacetic Acid = 0.18%
Hydrogen Peroxide = 0.88%
Distilled Water: 98.58%   (Total Inert Ingredients: 98.94%)
Total = 100.0%
* Note: Hydrogen peroxide is very low at only 0.88%, when mixed and applied by the HJ-30i ™.
Treatment Capacity:
Each bottle of Altacare ® can treat approximately 15 standard sized patient rooms, when using Altapure's AP-4 high-level disinfection system.
Why Select Altacare, a PAA agent?
Manufactured from pharmaceutical quality raw ingredients.
Filtered through 0.2 micron filters.
Very rapid spore kill.
Approved for use in clean room industry.
20+ year successful track record in hospitals.
No heavy metals (like silver).
Registered with the US Environmental Protection Agency (EPA).
Powerful broad spectrum disinfectant.
Registered claims as Sterilant / Sporicide / Bactericide / Fungicide / Virucide.
High oxidizing potential.
Compatible with all common hospital and clean room surfaces.
Decomposes and dries into water, oxygen, and acetic acid (vinegar) vapor – no residue & ends green.
Post treatment light smell is acceptable to burn units and cancer wards.
Easily disposable and biodegradable.
For more information, please see the following pages:
* Click here to learn more about: "Test Results & Efficacy".
* Please click here to learn more about: "Aerosol Liquid & Process Safety".