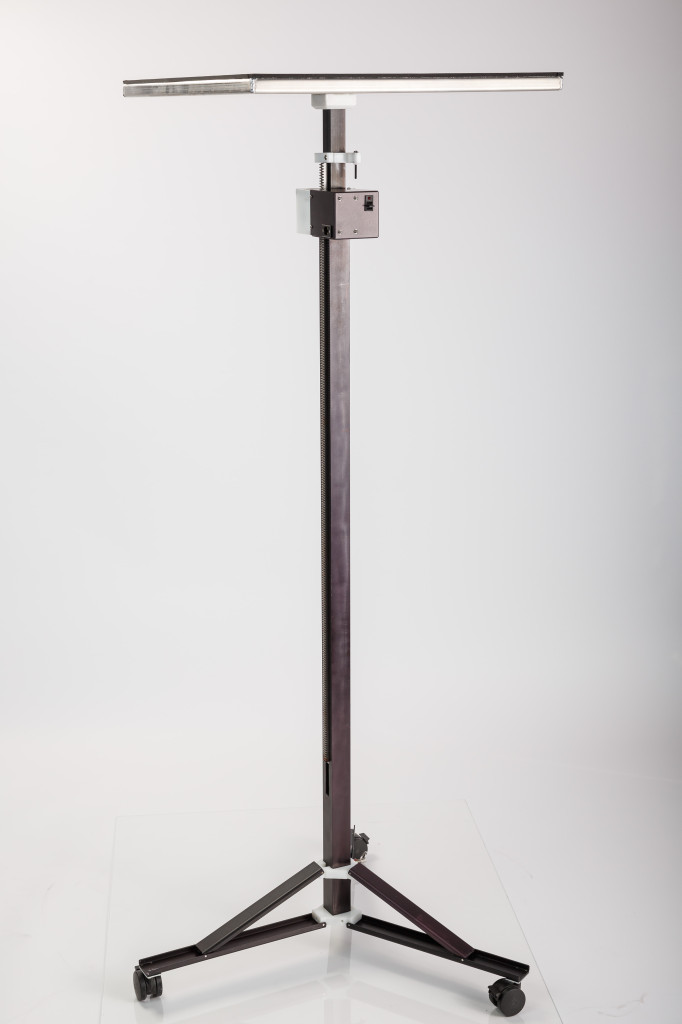 Description:
Altapure's patented Automated Vent Cover ™ is a lightweight and easily portable solution to quickly and effectively cover, and fully seal, the various HVAC / air vents that may exist in the treated room.
Rapid Placement and Take-down
The rugged motorized extension arm assembly, enables quick and accurate positioning and sealing of the vent cover around or to the HVAC / air vent(s). This is especially important where the mechanical advantage offered by this system, is able to overcome strong air currents that can sometimes be encountered with certain HVAC systems, and make manual pole placement designs extremely difficult or even impossible to work with.
Ease of Use & Remote Control
The Automated Vent Cover ™ system lifts the vent cover into position over, and then sealed around or to, an HVAC vent. Once in a sealed position, the operation of the Automated Vent Cover ™ is automatically controlled by the AP-4's ™ system software.
After the AP-4 ™ is finished with the room treatment cycle, the Automated Vent Cover ™ system automatically drops the vent cover back down to its original start position. This reduces the total room turn-around times, when compared to other room sealing methods.
Easily Configurable
The robotic extension arm and connected vent cover, is mechanically raised and lowered to accommodate ceilings of various heights. This system can also be easily modified to cover and seal various vent sizes and/or room sensors that may also be present in the room. Height extensions can also be easily added to the the system to access extra high ceilings.
Worker Safety
By using the Automated Vent Cover ™ system, worker safety is increased by: (a) eliminating the need for ladders to access the room vents, and (b) offering mechanical control of the vent cover during vent cover placement, especially in strong downward air currents, preventing the potential for air deflection of the vent cover into objects or people.
Automatic Vent Cover ™ - Benefits:
Eliminates the need for ladders to access and cover HVAC vents.
Motor driven.
Positive mechanical control of the vent cover during positioning and placement.
Easily setup and controlled by one (1) person.
Collapsible and easily stowed.
Automatic operation during treatment cycle.
Remote controlled when in position.
Reduces room tear-down time.
Reduces total turn-around time for room treatment (time in - time out).
Automatic Vent Cover ™ - Features:
Automatic and Remote controlled during treatment cycle.
Motor driven extension arm to create effective seal of vent cover to air vents.
Quick and easy positioning of vent cover.
Collapsible and compact design.
Lightweight and easy to maneuver.
Easy to operate.
Collapsible legs.
Collapsible vent cover extension arm.
Size – Height (min.) = 64 in. (162 cm), Height (max. standard) = 114 in. (289 cm).
Weight = 17 lbs. (7.7 Kg).
15 – 24 VDC/ 6A , all global standard input options are available.
One year parts and labor warranty.